Windows 7, one of the most popular and loved Microsoft operating systems has come to an end.
Microsoft are no longer provide security updates or support for PCs/laptops running the Windows 7 operating system.
Given the potential threats this poses to your business or home through viruses, malware, and ransomware, we strongly recommend that customers with Windows 7 devices upgrade these to Windows 10 ASAP
Windows 7 migration services still available July 2020, at very competitive pricing.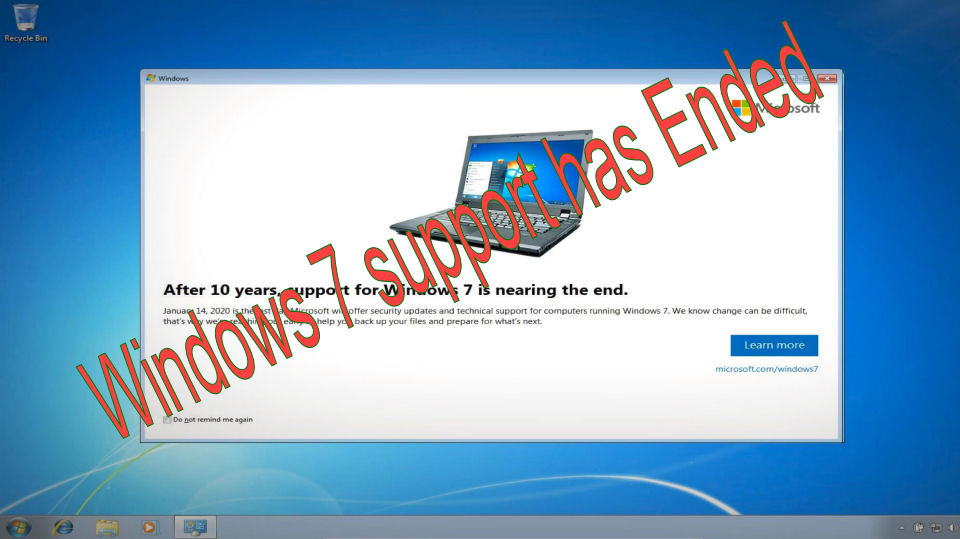 Laptop or computer running Windows 7


Need an upgrade to Windows 10, A-ONE IT, call 07771 761049 now. 
Laptop: 


 All makes of laptop/computer upgraded to Windows 10


 Migration strategy to avoid losing valuable data and or valuable programs like Microsoft Office


 90% of systems suitable for Windows 10 upgrade


 Some systems may need extra RAM or Faster Hard Drive


 Windows 7 or 8 or 8.1 only - Vista and XP excluded


 Save huge money on purchasing new laptop or computer


 A-ONE IT try to re-use printer, monitor, keyboard and mouse


 Help save the Planet by not throwing away your laptop/computer to refuse centres. The burgeoning Electronic Waste Crisis needs to be reigned in by consumers.


 Upgrade to 10 can be done in 24 hours


 Subject to survey and suitable computers only


 Guaranteed data security


 We wont send you away to PC World to source your own system or order from Amazon, buying a system with outdated Windows 10 and useless software preloaded


 Brand new fast desktops computers or laptops for home and business, latest Windows 10 2004, no bloatware or unwanted software - just FAST machines

A-ONE IT is here to help with the correct advice now Windows 7 has reached its end-of-life.
Its fiction that you will need to throw away your old laptop or computer and pollute the environment. However, some Windows 7 systems may be unsuitable.
Costs from £75 (subject to certain terms and conditions).
A-ONE IT works with a licensed Professional Recycling Company a Leeds to ensure all electronic waste is carefully disposed of.

A-ONE IT ltd, a local family firm trading since 1998 in Holmfirth, has 21 years of serving our local community
Let A-ONE IT put your mind at rest with all your Windows 7 upgrade and ignore false and fake scares that other companies tell you.
For an upgrade to W7 estimate complete ouur Contact Form, for a prompt reply. Call Allan on 07771 761409 for more information.
---